Irregular bleeding is common during perimenopause. At first, cycles can be shorter by just a few days (25 vs 28 days, for example) or you may get your period every 2 weeks.
Most women will experience irregular periods, abnormally heavy or prolonged bleeding (menorrhagia), and painful cramps (dysmenorrhea) as hallmark signs of perimenopause — and yes, even if your cycle ran like clockwork before. The culprit? Hormonal changes.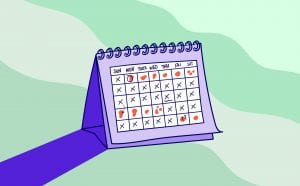 How your hormones play a role
The two primary reproductive hormones for women, estrogen and progesterone, control menstruation along with a slew of other functions in our body. Among other things, estrogen causes the endometrium, or the lining of the uterus to thicken during a typical menstrual cycle. Progesterone balances estrogen by controlling the build-up of the endometrium and preparing the lining for the potential of pregnancy. When hormone levels shift and eventually decline during the menopause transition, the result is irregular periods.
High estrogen levels = heavy bleeding
Normal-high estrogen + low progesterone = irregular, absent periods
As perimenopause shifts into early – late menopause, menstrual cycles become more irregular and scarce, with skipped ovulation and periods (aka amenorrhea) over consecutive months. We unfortunately cannot test for when that last period will come, but some women continue to menstruate into their late 50s.
How heavy is talk-to-your-doctor heavy?
Our bodies, and our cycles, vary tremendously, but here are some benchmarks to consider:
Soaking through 1 pad/tampon per hour for 2+ hours
Bleeding for longer than 1 week
Passing blood clots larger than a quarter
Waking up at night to change a pad or tampon
Below are two other reasons you may want to seek additional medical help:
Prolonged, heavy, or painful periods can oftentimes be traced back to polycystic ovarian syndrome (PCOS), polyps, fibroids, coagulation, or blood clotting problems — in which case you should definitely consult your doctor.
Any and all vaginal bleeding post-menopause is considered abnormal and should be a sign to talk to your doctor. While the cause could very well be harmless (like dryness), it could also be a signal of a more serious medical condition, including uterine cancer. If you have postmenopausal bleeding, you need to call your doctor right away. And if you can, bring notes on the length, duration, and flow of your bleeding to that doctor's appointment.
Oh, and one more note on irregular periods
They could very well be due to other causes outside of perimenopause and menopause, including anything that can disrupt ovulation: thyroid and prolactin abnormalities, polycystic ovary syndrome (PCOS), adrenal problems, extreme stress, illness, etc.
Periods that suddenly become irregular may require a workup to exclude causes other than perimenopause, especially for women in their early 40s. And remember, while a skipped period at 40 may mean perimenopause (or any of the culprits listed above), it can also mean pregnancy!
Pro tip #1
Before your next annual visit, track your cycle for 1-2 months to share with your doctor. Tracking specific cycle length between periods, duration of your period, and flow can help your doctor better understand where you are in the perimenopause transition. For example, decreased time between cycles (< 28 days) could be an early sign of perimenopause, while increased time between periods often signals late perimenopause.