To start, we're going to go ahead and address the elephant in the room. Yes, menopause brain fog IS a very real thing. No, you're not imagining it or "going crazy."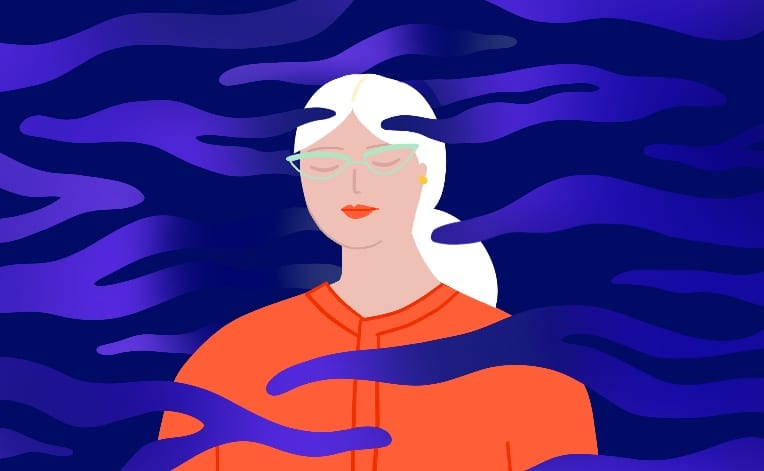 Small decreases in cognitive abilities begin as early as your 30s (surprising, right?), with evidence showing small changes in memory performance across the menopause transition that aren't accounted for by age or other factors. Several studies have found that different aspects of cognition, including verbal learning, attention, and memory performance decline pre-menopause into perimenopause. These continue into menopause, with small but statistically significant decreases in attention, processing speed, and other cognitive problems — confirming that, for some of us, cognitive decline is indeed attributable to the menopause transition.
Why does brain fog happen?
As more and more research emerges, we're getting a better grasp on just how important of a role hormone levels play in cognition-related conditions such as dementia and Alzheimer's. As estrogen levels drop, glucose metabolism (the brain's primary fuel) decreases by 20 – 25%, which is the main reason you may feel "off your game." Declining estrogen and age also impact depression, fatigue/sleep disturbances, and cortisol levels from stress — all of which may indirectly exacerbate cognition issues.
The risk of cognitive impairment is higher for those of us who enter induced menopause before age 49, specifically when it comes to episodic and semantic (or language-related) memory. Additionally, an increased risk of Alzheimer's is associated with a younger age of menopause. In one study, women who went into menopause between ages 41-46 had a 29% higher chance of developing Alzheimer's than women who hit menopause between 51-55.
To be clear, menopause itself does not cause Alzheimer's. Rather, it can serve as a trigger for predisposed women who, without the neuroprotective (i.e. protecting your brain!) hormone, estrogen, are left more vulnerable.
There's no way to sugarcoat the fact that upwards of 60% of women report difficulty concentrating during menopause, but we CAN take comfort in knowing that the majority will NOT develop Alzheimer's disease.
Cognitive evaluation
Neuropsychiatrists, doctors who specialize in diagnosing and treating brain disorders, can perform evaluations to test for cognitive defects (for example, problems with executive functions, like abstraction, conceptualization, attention, memory and more — these tests are usually done with paper & pencil). More often than not, women in menopause will score normally — in which case attention, focus, sleep issues, and stress may be contributing to brain fog. Humans aren't hardwired to excel at multitasking, and we don't know about you, but these days it feels like everything and everyone is demanding our attention.
An exciting area of research is currently looking at hormone replacement therapy (HRT) as a way to stave off cognitive changes associated with the menopause transition. Right now, we don't have enough data to know if it will work, but we're always keeping an eye out for emerging research and the latest clinical studies, so be sure to subscribe to our weekly digest for the latest, science-based info sent straight to your inbox. 
Fortunately, brain health is not out of our control, and there's much we can do to nourish that noggin as we age. As Richard Isaacson, founder of the Alzheimer's Prevention Clinic at Weill Cornell Medicine and NewYork-Presbyterian Hospital states:
"Just like you can't prevent a heart attack or a stroke definitively, you can't prevent Alzheimer's definitively. But one in three cases can be either preventable or delayed."
Pro tip #1
Although cognitive health may be difficult to talk about, it's incredibly important to do so. Talking with family can shed light on your genetic health history, and friends can help keep an eye out for instances of brain fog (and know not to jump in on your behalf). Of course, talking about something like this also helps smash the taboo around it, which is why we're here in the first place!